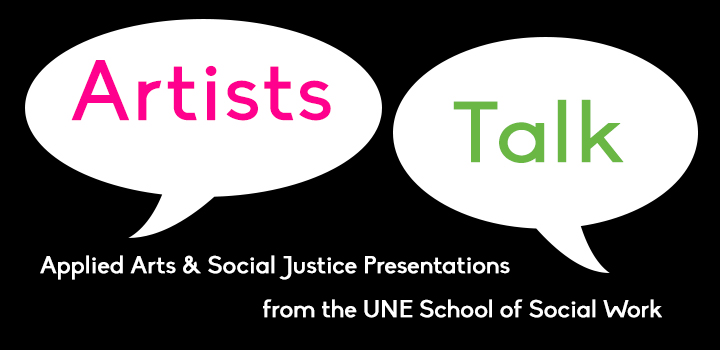 The UNE School of Social Work offers a Certificate in Applied Arts and Social Justice, allowing students to integrate their passion for expressive arts with their passion for transformation, change and healing.
Arts have long been a tool for social workers, reflecting the passion and voice of those they serve as well as being an instrument for change. Expressive arts in their numerous forms call attention to causes, conditions, and change. The UNE School of Social Work has showcased on its walls the work of a number of artists/art collectives, demonstrating arts as collective social action, as personal narrative and expression, as personal trauma healing, arts to shift economic disparities and to call attention to the clothes we wear and manufacturing and labor practices, to change health care procedure, protocol and policy, arts to honor and uncover acts of gender justice, to distill massive amounts of public health data, to capture our community and culture's conditions, to disseminate program impact, and to empower youth.
This series of presentations from contributing artists allowed participants to learn about the artists' processes and engage in in-depth discussion about their craft.
Printing is not supported at the primary Gallery Thumbnail page. Please first navigate to a specific Image before printing.