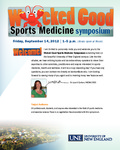 Event Location
Biddeford, Maine
Description
2012 sports medicine symposium at the University of New England in Biddeford, Maine.
Presenters and topics included:
Daniel E. Lieberman: Why Exercise Really is Medicine (An Evolutionary Explanation); Samuel Headley: Exercise and Chronic Kidney Disease; Stella L. Volpe: Prevention of Weight Gain in a Large Portion Society; J. Timothy Lightfoot: Can You Be Born a Couch Potato? The Genetics that Control Your Physical Activity; Samuel N. Cheuvront: Answers to 10 Common Questions about Hydration; David Epstein: Missing the Phenotypes for the Genotypes.
Keywords
Exercise science, kidney disease, weight gain prevention, hydration, genetics
Disciplines
Rehabilitation and Therapy | Sports Sciences
Preferred Citation
Carlson, Lara; Lieberman, Daniel E.; Headley, Samuel; Volpe, Stella L.; Lightfoot, J. Timothy; Cheuvront, Samuel N.; and Epstein, David, "Wicked Good Sports Medicine Symposium 2012 Program" (2012). Wicked Good Sports Medicine Symposium. 1.
https://dune.une.edu/wgsms/1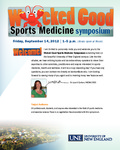 COinS