Akesis is a journal of narrative medicine created and run by students at the University of New England (ME, USA). Narrative medicine is the art of gathering, creating, and sharing stories of illness and healing; it honors the role of stories in healthcare, and allows health care providers to better care for their patients, their colleagues, and themselves. By providing an outlet for original literary and artistic works related to narrative medicine, the editors of Akesis seek to promote both awareness of the practice and development of communication, self-care, expression, reflection, and mindfulness skills among the UNE community of health professionals.
Current Issue: Volume 4, Issue 2 Winter 2019
Cover photo credit: © 2019 Patrick Teebagy
Our theme for this issue was selected to encourage the community to explore the value of recognizing the "big picture" when we face emotionally, energetically, and intellectually trying moments in the present. Semper Prosorum, meaning "ever forward," is an important reminder for times when the path seems unclear or when we wish we could change something in the past. For some, this may be the forward movement of time or changing of the seasons, while others may use specific milestones to signify a progressive step. We are extremely grateful to those in our community who have taken the time to share what Semper Prosorum means in the context of their lives, and we hope readers gain some unique perspectives as they move ever forward in their own lives.
-The Editors
Nonfiction
Poetry
Illustration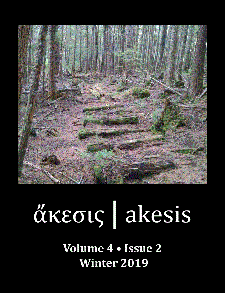 Editors:
Karim Abdel Jalil
Bonni Boles
Sean Murphy
Patrick Teebagy
Semper Prorsum