NOW ACCEPTING SUBMISSIONS! DEADLINE: APRIL 17, 2020. The editors of Akesis would like to invite members of the UNE community to submit literary and artistic works for consideration for publication in its upcoming issue. All submissions should relate to the practice of narrative medicine and to the prompt for the Winter 2020 issue: "Pivot".
Over the past months, we have watched as a novel coronavirus, COVID-19, took hold in Wuhan, China, and spread to the rest of the globe. The speed and exponential nature of this spread seems mirrored in the changes to our behaviors and lives, enacted in an effort to shrink the wave of demand pressing onto our health care systems. Every person, whether a health care worker or otherwise, is having to make changes, turns, adjustments—sometimes a complete role abandonment is required. For this issue of Akesis, we invite you to submit creative works which represent the theme of a pivotal moment, a chance taken or missed, a decision made, adjustments to your heading, adaptations required by exceptional situations—emotional, physical, or otherwise. We hope to provide an opportunity for catharsis and introspection as we face this new, tumultuous world in the grasp of COVID-19; and even if you do not submit your work to Akesis, we hope that you take time to reflect and give your thoughts the attention they deserve. We will also happily welcome submissions which are not related to the novel coronavirus. Take care of yourselves and each other.
See Submission Guidelines for a full description of works accepted for consideration. Submit Work here.
Current Issue: Volume 5, Issue 1 Fall 2019
Front Matter
Fiction
Nonfiction
Poetry
Photos
Illustrations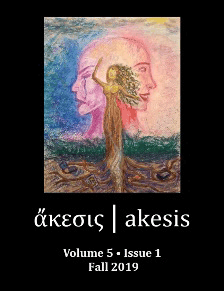 Editors:
Bonni Boles
Amy Courtney
Jonathan Field
Yasmin Ghandehari
Brooke Kimball
Kaline Mulvihill
Riley Shea
Historia Habitus