Akesis is a journal of narrative medicine created and run by students at the University of New England (ME, USA). Narrative medicine is the art of gathering, creating, and sharing stories of illness and healing; it honors the role of stories in healthcare, and allows health care providers to better care for their patients, their colleagues, and themselves. By providing an outlet for original literary and artistic works related to narrative medicine, the editors of Akesis seek to promote both awareness of the practice and development of communication, self-care, expression, reflection, and mindfulness skills among the UNE community of health professionals.
The editors of Akesis would like to invite members of the UNE community to submit literary and artistic works for consideration for publication in its Fall 2018 issue. All submissions should relate to the practice of narrative medicine and to the prompt for the Fall 2018 issue: "Re-______" See Submission Guidelines for a full description of works accepted for consideration. Submit Work here.
Current Issue: Volume 3, Issue 3 Spring 2018
Poetry
Photos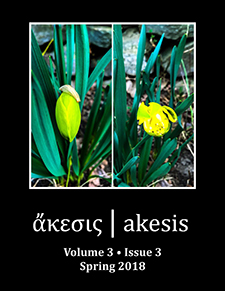 Editors:
Jack Lewis
Elizabeth Monis
Laura-Frances Morin
Sean Murphy
Samantha Stephen
Patrick Teebagy
Celebrating Life.