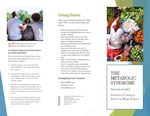 Faculty Advisor(s)
Micaela Karlsen
Associated Course
APN 625 - Nutrition Practice for Health Promotion and Disease Prevention
Publication Date
Fall 2020
Description
The prevalence of the metabolic syndrome is globally increasing at epidemic proportions. The metabolic syndrome is considered one of the more common non-communicable diseases, reportedly three times more common than diabetes. In the US alone, approximately 34 per cent of Americans were diagnosed with the condition during the 2007-2012 era, however, the percentage of afflicted adults continues to grow. The cause of this condition has been associated with genetic predisposition, epigenetic alterations, nutritional choices, and physical inactivity. Although this list is non-exhaustive, the latter two causes are often thought to be due to the adoption of westernized approaches to diet and exercise. When these lifestyle choices are counteracted with health promoting alternatives, research has shown it can lead to the amelioration of the metabolic syndrome. Herein, this pamphlet attempts to encourage lifestyle changes, known as healthy defaults, to help individuals reverse or prevent the cardiometabolic risk factors associated with the diagnosis of the metabolic syndrome.
Rights
© Scarlet Louis-Jean
Keywords
the metabolic syndrome; lifestyle changes; healthy defaults; nutrition; exercise
Preferred Citation
Louis-Jean, Scarlet, "The Metabolic Syndrome, are you at risk? Lifestyle changes you can make today" (2020). All Student-Created Educational Resources. 159.
https://dune.une.edu/an_studedres/159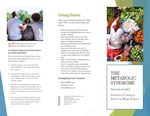 Files over 3MB may be slow to open. For best results, right-click and select "save as..."
Included in
COinS