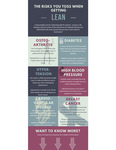 Faculty Advisor(s)
Moira Burke
Associated Course
APN 605
Publication Date
Spring 2018
Description
This handout illustrates the risks associated with overweight and obesity as well as evidence for how losing weight can reduce these risks. This is meant to be a motivational handout for those looking to improve their health through weight loss. The information in this handout is completely evidence-based and cites the articles from which each fact came so as to provide additional reading materials for those looking to learn more about their health and the benefits of losing weight.
Rights
© 2018 UNE Applied Nutrition
Keywords
Nutrition, risk reduction, disease, weight loss, comorbidities, osteoarthritis, diabetes, hypertension, high blood pressure, cardiovascular disease, breast cancer.
Preferred Citation
UNE Applied Nutrition Program, "The Risks You Toss When Getting Lean" (2018). All Student-Created Educational Resources. 27.
https://dune.une.edu/an_studedres/27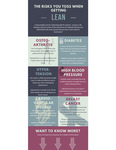 Included in
COinS