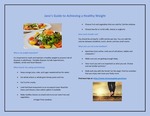 Faculty Advisor(s)
Rebecca Bonnett
Associated Course
APN 605
Publication Date
Summer 2018
Description
This handout is a simple guide to assist a female teenager in reducing and maintaining a healthy weight for her age. It includes tips on how many calories to consume, how to make healthier nutrition choices, and also other non-nutrition related suggestions for increasing physical activity.
Rights
© 2018 UNE Applied Nutrition Program
Keywords
Nutrition, Obesity, Disease, Teens, Healthy Choices, Overweight, Exercise, Weight Reduction, Healthy Eating, Physical Activity, Beverages, Portions, Screen Time, Parental Influence.
Preferred Citation
UNE Applied Nutrition Program, "Jane's Guide To Achieving A Healthy Weight" (2018). All Student-Created Educational Resources. 67.
https://dune.une.edu/an_studedres/67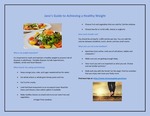 Included in
COinS