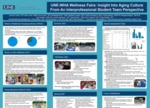 Description
A poster highlighting the work of three interprofessional groups of students with the common goal to provide engaging, informative, and fun events to the residents of the Westbrook Housing Authority (WHA) in Westbrook, ME. Each interprofessional team worked together to plan a Mini-Wellness Fair at various Westbrook Housing buildings during the Summer and Fall of 2021, and the current team is in the process of planning the Spring 2022 event. This presentation will showcase the breadth of activities planned for the residents to help combat the isolation felt throughout the COVID-19 pandemic. We also hope this presentation provides a gateway to the implementation of similar events for other isolated groups in the Greater Portland area. Students from various health professional programs, including social work, occupational therapy, physical therapy, nursing, dental, and allopathic medicine came together to create these events with help from faculty and staff from UNE and WHA.
Funding for this activity provided by the Center for Excellence in Collaborative Education. Special thanks to the Office of Research and Scholarship and Brian and Deborah Dallaire for their support.
Disciplines
Interprofessional Education
Access/Rights
© 2022 The Authors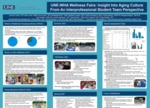 Files over 3MB may be slow to open. For best results, right-click and select "save as..."
COinS