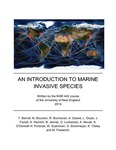 Faculty Advisor
Markus Frederich
Description
Countless marine species are invading new environments with devastating effects on the ecosystem, the local and global economy, and on human health. The frequency of marine invasions has been increasing in recent decades with a respective raised interest of invasive species in the scientific community, and the general public. The Aquatic Invasive Species class (MAR442) at the University of New England offers an informative overview of invasive species, targeting educated readers with a general interest in invasive species biology. Students in the MAR 442 class have worked on identifying the most important topics on marine invasive species, have reviewed the respective literature and written chapters that provide both a broad overview of the general aspects on marine invasions, as well as a set of individual case studies that illustrate different specific aspects of marine invasions. The class, comprised of fifteen junior and senior marine biology students, selected the different topics, presented the material, wrote the drafts, edited the drafts and assembled the final versions into this book. With a wealth of information on invasive species assembled in peer-reviewed articles, books, other literature, websites, data-bases and more, this book cannot claim to be all inclusive. However, we think that this book will provide an excellent broad overview of the most important aspects of marine invasion biology, and will furthermore provide very specific information on selected topics.
Disciplines
Environmental Sciences | Marine Biology | Terrestrial and Aquatic Ecology
Access/Rights
Copyright © 2014 the authors. Please cite correctly if utilized. Please contact the authors to request permissions for use beyond personal or educational fair use.
Preferred Citation
Berndt, Teresa; Bourdon, Natasha; Buchanan, Rebecca; Doane, Abigail; Doyle, Laura; Farrell, Jacob; Henrich, Angela; Jenner, Blaise; Lockwood, Christopher; Novak, Ashleigh; O'Donnell, Kiera; Pultorak, Hanna; Scamman, Wyler; Strohmeyer, Alec; Tilsley, Keenan; and Frederich, Markus, "An Introduction To Marine Invasive Species" (2014). Marine Sciences Student Projects. 1.
https://dune.une.edu/marinesci_studproj/1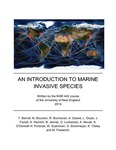 Files over 3MB may be slow to open. For best results, right-click and select "save as..."
COinS