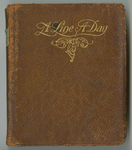 Title
Description
"A Line A Day" diary that Marie Ahnighito Peary wrote in, between 1917 and 1921, with the bulk of the entries from 1918-1921. During this busy time in her life, she married Ted (Edward Stafford), gave birth to two sons - Junior (Edward Stafford, Jr.) and Buddy (Peary Diebitsch Stafford), and lost her father (Admiral Robert E. Peary). The diary chronicles her daily life for those 4-5 years, as well as brief mentions of newsworthy world events, including the 1918 flu pandemic and World War I.
Her diary includes the following people and places:
Mother - her mother, Josephine Peary
Dad - her father, Robert E. Peary
Ted - husband, Edward Stafford
Junior, or JuJu - firstborn son, Edward Stafford, Jr.
Buddy - second son, Peary Diebitsch Stafford
Tante - Marie Flora Diebitsch, her aunt, Josephine's younger sister
Grossy - Maria Schmidt Diebitsch, her grandmother, Josephine's mother
Madge - Madge Diebitsch Holt, her cousin
Rob, or Kid - her younger brother, Robert Peary, Jr.
Miss Wiggin - appears to be household help/nanny?
Emily - Emily Stueart, her lifelong friend
Mrs. Steuart - Emily's mother
Miss Rupli - her French tutor
Uncle - Emil Diebitsch, her maternal uncle
Aunt Bobby - Roberta Waterson Diebitsch, Emil's wife
Judge - Justice Wendell Phillips Stafford, her father-in-law
Mrs. S. - Florence Sinclair Stafford, her mother-in-law
Harry Semmes - Ted's friend from Dartmouth
Helen - Helen Kahle Pickhardt - lifelong friend
Marden - Aaron Marden, caretaker on Eagle Island
Mary Rafter - lifelong friend
Pape - Martha Percy, the Peary's cook
Robert Nash - friend of the family
Everett Chambers - rooming house in Portland where the Peary family stayed
Eagle Island - island in Casco Bay off the coast of Maine, site of the Peary's retirement home, now a historic site
Object ID
MWWC0348_05_00_018_01
Keywords
diary, Marie Peary, World War I, WWI, Washington D.C., Virginia, Maine, Eagle Island
Disciplines
United States History | Women's History
Location of Original
Maine Women Writers Collection
Catalog Record
Physical Description of Original
diary, 15 x 13 cm
Access/Rights
Fair use: You do not need permission to use this material for personal research, in-class teaching purposes, school projects and assignments, blog posts or other non-commercial purposes. Commercial use: Please contact MWWC for use of images or documents in publications.
Preferred Citation
Marie Ahnighito Peary papers, Maine Women Writers Collection, University of New England, Portland, Maine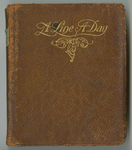 Files over 3MB may be slow to open. For best results, right-click and select "save as..."
Included in
COinS