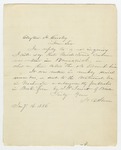 In reply to your inquiring I will say...
Used in the exhibit: From Scribes to Scrawlers: Handwriting in America, on display at UNE in 2018.
Used in the exhibit: Sincerely Yours: Letter from the Maine Women Writers Collection, on display in 2014.
Description
Handwritten letter from Harriet Beecher Stowe to Clayton Crosby regarding the writing and publication of Uncle Tom's Cabin
This paper has been withdrawn.