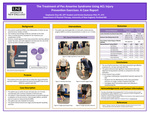 Faculty Advisor(s)
Kirsten Buchanan
Description
The purpose of this case report was to utilize ACL injury prevention exercises within a comprehensive physical therapy (PT) plan of care (POC) for a patient with Pes anserine syndrome (PAS). Pes anserine syndrome (PAS) is the inflammation of either the pes anserine bursa, tendon, or both. The incidence and etiology of PAS are unknown at this time. There is limited literature available for the treatment and rehabilitation of PAS. Anterior cruciate ligament (ACL) injury prevention exercises address proper hip, knee, and ankle alignment and decrease the risk of ACL injuries by 52% in females and 85% in males.
Disciplines
Physical Therapy
Related Materials
The case report paper for this poster can be found here:
Preferred Citation
Chau, Stephanie and Buchanan, Kirsten, "The Treatment Of Pes Anserine Syndrome Using ACL Injury Prevention Exercises: A Case Report" (2018). Case Report Posters. Poster 153.
https://dune.une.edu/pt_studcrposter/153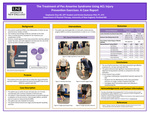 Files over 3MB may be slow to open. For best results, right-click and select "save as..."
Included in
COinS