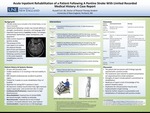 Faculty Advisor(s)
Jennifer Audette
Description
795,000 strokes occur annually in the United States, or one every 4 seconds. Impairments following a stroke may include deficits in strength, coordination, sensation, and language skills. Expected impairments of pontine strokes include hemiplegia, sensorimotor dysfunction, ataxic hemiparesis, and dysarthria. There is little current research on pontine strokes. The purpose of this case report is to outline the physical therapy plan of care and response to treatment for a patient following a pontine stroke in the acute inpatient rehabilitation unit of a hospital.
Disciplines
Physical Therapy
Preferred Citation
Curl, Russell, "Acute Inpatient Rehabilitation Of A Patient Following A Pontine Stroke With Limited Recorded Medical History: A Case Report" (2019). Case Report Posters. Poster 166.
https://dune.une.edu/pt_studcrposter/166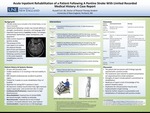 Files over 3MB may be slow to open. For best results, right-click and select "save as..."
Included in
COinS