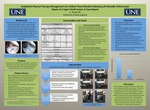 Faculty Advisor(s)
Amy Litterini
Description
Background: Research demonstrates a drastic increase in the prevalence of type-II superior labral anterior-posterior (SLAP) lesion repairs, and its surgical correction has become the favored method of treatment, because of its ability to effectively improve quality of life (QOL). A type-II SLAP lesion consists of fraying and degenerative changes to the superior labrum, in an anterior to posterior direction, with the biceps tendon detached from the glenoid. Purpose: Document the examination, evaluation, and plan of care (POC) concerning a patient that was referred to physical therapy (PT) three months following the surgical correction of a type-II SLAP lesion.
Publication Date
11-20-2014
Disciplines
Physical Therapy
Related Materials
The case report paper for this poster can be found here:
Preferred Citation
Dowd, Charles, "Outpatient Physical Therapy Management Of A Patient Three Months Following Left Shoulder Arthroscopic Repair Of A Type-II SLAP Lesion: A Case Report" (2014). Case Report Posters. Poster 5.
https://dune.une.edu/pt_studcrposter/5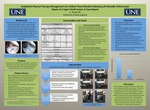 Files over 3MB may be slow to open. For best results, right-click and select "save as..."
Included in
COinS