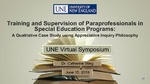 Title
Training And Supervision Of Paraprofessionals In Special Education Programs: A Qualitative Case Study
Files
Download Training Paraprofessionals Original File (15.3 MB)
Description
30 minute virtual presentation given by Catherine Stieg, UNE Doctorate of Education Class of 2019, on June 15, 2019, for the UNE College of Graduate and Professional Studies' Virtual Research Symposium.
Publication Date
6-15-2019
Disciplines
Educational Leadership
Physical Description of Original
Original file (available here as supplemental file) is a PowerPoint file with embedded audio.
Related Materials
Catherine's UNE Ed.D. dissertation, Training And Supervision Of Paraprofessionals In Special Education: A Qualitative Case Study, is also available in DUNE: https://dune.une.edu/theses/191/.
Preferred Citation
Stieg, Catherine D., "Training And Supervision Of Paraprofessionals In Special Education Programs: A Qualitative Case Study" (2019). Virtual Research Symposium 2019. 2.
https://dune.une.edu/virtual2019/2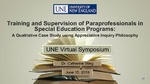 COinS