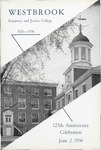 125th Anniversary Celebration, Westbrook Seminary and Junior College, June 2, 1956
The 125th Anniversary narrative and pamphlet were probably written and designed by Dorothy M. Healy who authored and edited college publications, in addition to her numerous administrative, development and public relations responsibilities, for fifty four years, from 1936 to 1990.
Description
Founded in 1831, Westbrook Seminary & Junior College celebrated its 125th Anniversary with a Pageant, Speakers, Reception and Commemorative Exhibits. This Anniversary program includes:
I. A Westbrook Seminary & Junior College History from its inception in September of 1830 through the Seminary years and the early years of the Junior College.
II. The Order of Events and Speakers for the Anniversary Celebration held in the Stevens Avenue Armory on June 2, 1956.
III. A listing of Commemorative Exhibits located throughout the campus.
IV. A listing of the Headmasters and Presidents of Westbrook Seminary & Junior College from 1834 thru 1956.
V. A listing of the Board of Trustees, Sponsors of the 125th Anniversary Celebration.
This paper has been withdrawn.