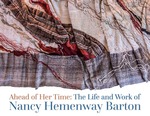 Description
Ahead of Her Time: The Life and Work of Nancy Hemenway Barton is the catalogue from the Portland Campus UNE Art Gallery's September 28, 2017 - December 20, 2017 exhibition of curated artwork by Nancy Hemenway Barton.
Curated by Anne B. Zill and members of the Barton family, the exhibition is a major retrospective of one of the 20th century's most creative and multi-faceted artists, featuring Hemenway Barton's early watercolors, portraits and oils as well as her textile designs, wall hangings and three-dimensional art forms. Also included are examples of her journals, poetry, videos, art materials and memorabilia. Honored with the UNE Deborah Morton Award in 1979, Hemenway Barton showed artworks in exhibitions around the world, including one-person shows at the Art Institute of Chicago, the Los Angeles County Museum of Art, and in Edinburgh and Botswana.
Form/Genre
Exhibition catalogs
Publisher
University of New England
Publication Location
Portland
Disciplines
Art and Design | Fine Arts | Photography | Women's Studies
Access/Rights
© 2017 Hemenway Foundation
1215 Creek View Way
Ponte Vedra Beach, FL 32082
billebarton@gmail.com
All rights reserved. No part of this book may be reproduced or transmitted in any form or by any means, electronic or mechanical, including photocopying, recording, or by an information storage and retrieval system—except by a reviewer who may quote brief passages in a review to be printed in a magazine or newspaper—without permission in writing from the publisher.
Preferred Citation
University of New England Art Gallery and Hemenway Foundation, "Ahead Of Her Time: The Life And Work Of Nancy Hemenway Barton" (2017). Exhibition Catalogues. 7.
https://dune.une.edu/art_catalogues/7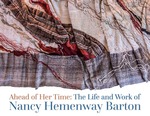 Files over 3MB may be slow to open. For best results, right-click and select "save as..."
COinS